Period: 22 – 30 July, 2023
Conductors: Timothy Brown (UK), Robert Sund (Sweden)
Repertoire:
Alexandru Pascanu Chindia
Einojuhani Rautvaara Suite de Lorca
Pärt Uusberg Öhtul
Roine Jansson ABBA Cappella
Steve Dobrogosz Mass
Concert: Sunday 30 July, 21:00, Horto Open Air Theatre
If you are interested in participating or would like more information please complete the form below.
This project is supported by the Beijerstiftelsen/ The Beijer Foundation.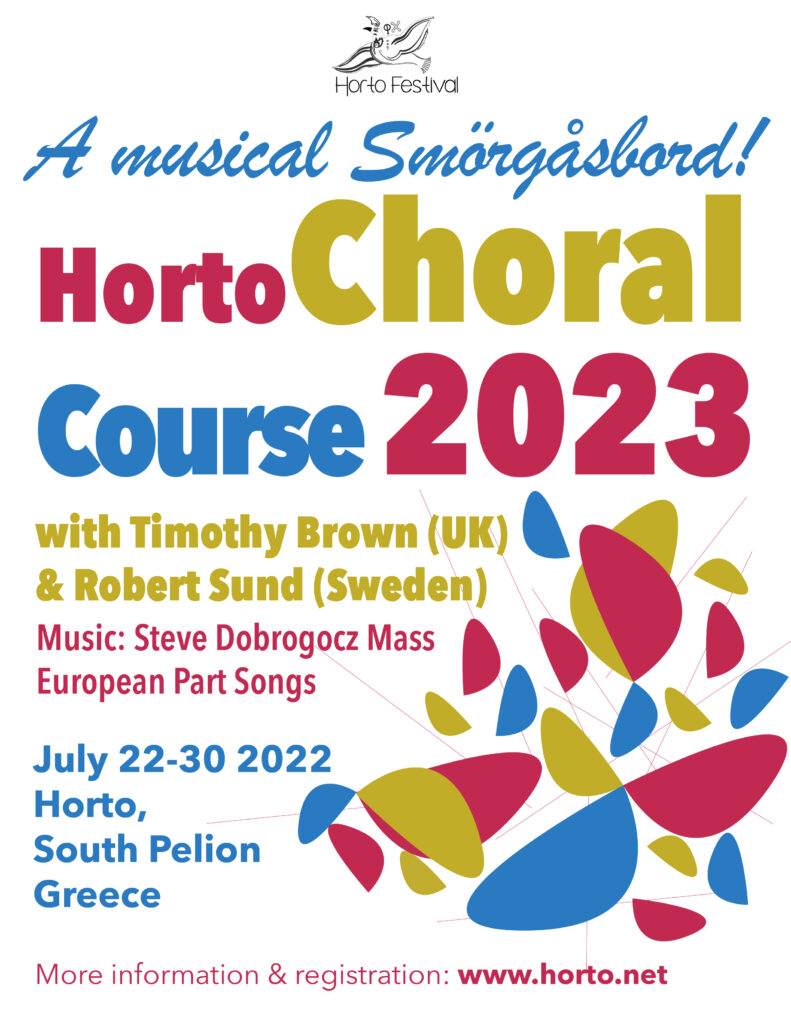 The project was first launched in Horto in 2017 under the direction of Timothy Brown. In the 2023 programme we are hosting for first time the Swedish choir conductor Robert Sund who, together with Timothy Brown, will share the preparation and direction of an exciting choral programme. The diverse backgrounds of composers from countries such as Finland, Norway, Estonia, Estonia, Romania and Sweden converge in the contemporary music chosen. This year our summer artistic team is joined by Zvika Vogel, pianist and conductor from Israel, who will accompany the choir in the rehearsals and the concert
Registration fee: €195 / €145 (for singers up to 28 years old)
Deposit: A €50 booking fee will be required. This is non-refundable.
Early Bird Reduction
Registrants who pay the €50 booking fee before January 1st will be eligible for a 10% reduction (€20).The balance of the registration fee will be due by June 1, 2023
Refund Policy
The registration fee will be 100% refunded in case of cancellation before April 1, 2023 and 50% refunded after April 1, 2023 up to June 15, 2023. The registration fee is non-refundable after June 15, 2023
Music scores
Music scores will be available at the start of the course and will cost €20 to be paid with the registration fee before June 15, 2023      
Alternatively, music scores (pdf format) will be available free of charge upon request before the course but not during the course.
Course Cancellation Policy
The Foundation reserves the right to cancel the course if necessary. Registrants will receive a full refund of the registration fee and music score cost. However, the Foundation will not be responsible for other costs or expenses incurred by registrants as a result of course cancellation.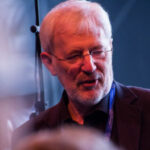 The English choral conductor Timothy (Tim) Brown received his initial musical training as a chorister at Westminster Abbey, and later as a member of the King's College Choir, Cambridge. For many years Tim was Director of Music at Clare College, where he directed the College Choir, bringing it to international fame through recordings and concerts around the globe. He was the founder-director of the professional chorus English Voices, and The Academy of English Voices, which brings together professional and amateur singers, with which ensembles he has toured internationally. In 2011 he set up the Zürcher Sing-Akademie, a professional chorus in Zürich associated with the Tonhalle Orchestra, which he directed until 2015. Until 2020 he directed the Berwang International Holiday Music Course, and is a popular choral clinician around the world, conducting many workshops for Europa Cantat since 1978. He has been the musical director of the Horto Choral Course since its inception in 2017. Away from choral singing Tim is a composer and editor and was a co-editor of the complete William Walton Edition for Oxford University Press.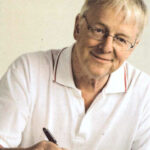 Robert Sund is a distinguished Swedish composer and conductor. He was for many years artistic director and conductor of the mixed choir Allmanna Sången and the male choir Orphei Drängar (OD) and founded and was the leader of both the women`s choir La Cappella and the youth choir Uppsala Musikskolas Kammarkor. Since 2004 he has also directed the Robert Sund Chamber Choir and for 17 years he has been teaching conducting and ensemble leadership at the Royal Academy of Music in Stockholm. In 2003 Robert Sund was awarded an honorary stipend from the Municipality of Uppsala and also the Peter Cornelius Plaque in Mainz. In 2004 he received the King's Medal of the 8th Magnitude with a bright blue ribbon for valuable service as director of the male choir Orphei Drängar. In 2008 he was awarded the Gustaf Adolf Medal in gold from Uppsala University for his important achievements as a choir leader, music creator, and developer of choir traditions by the University of Uppsala. In 1993, Robert Sund was named Conductor of the Year by the Föreningen Sveriges Korledare (Association of Swedish Choir masters). His choral music is based on sacred and secular themes and texts and is well-known throughout the world.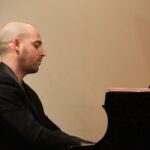 Zvika Vogel is a conductor and pianist who was born in Israel in 1986. He is a graduate of the music department of Wizo High School of Art and the Rubin Music Conservatory in Haifa. He completed his Bachelor and Master's degrees at The Buchmann-Mehta School of Music in Tel Aviv University: Bachelor degree in Piano, under the instruction of Prof. Michael Bogoslavski and Prof. Tomer Lev AND HIS Master's degree in choir conducting, under the instruction of Prof. Avner Itai and Mr. Ronen Borshevsky at The Buchmann-Mehta School of Music at Tel Aviv University and also with Professors Stephen Layton and Tim Brown at the University of Cambridge, UK. Zvika has won Sharett Fund Scholarships, scholarships for academic excellence from The Buchmann-Mehta School of Music, and awards in solo piano and chamber music competitions. As a soloist he has played with leading orchestras in Israel and participated in live radio broadcasts, in music festivals and in subscription series. During his studies, He served as an assistant in The Vocal Octet and the Chamber Choir of the Buchmann Mehta School of Music. He has been invited to conduct various projects including The Cantata "Rayuk" by Shostakovich and the opera "Dust Song" by Joseph Bates, involving a number of leading choirs, such as, St. John's Choir, Oratorio Choir of Cambridge, and King's College Choir. Currently Zvika performs with chamber music ensembles, conducts the Haifa Chamber Choir and is regularly invited to participate in international festivals and workshops as a pianist and conductor. With Natalie Goldberg he founded the Nona Vocal Arts Center where he serves as Music Director, conductor and pianist.