Sunday December 4, 2022, 19:00
George Hadjinikos Hall, Horto
Programm
Ernest Cavallini (1807 – 1874)
– Elegié
Arthur Coquard (1846 – 1910)
– Melodie e Scherzetto
Francis Poulenc (1899 – 1963)
– Sonata pour Clarinette er Piano
Robert Schumann (1810 – 1856)
– Drei Fantasiestücke, op. 73
Malcolm Arnold (1921 – 2006)
– Sonatina for Clarinet and Piano
Alec Templeton (1909 – 1963)
– Pocket size Sonata, for Clarinet and Piano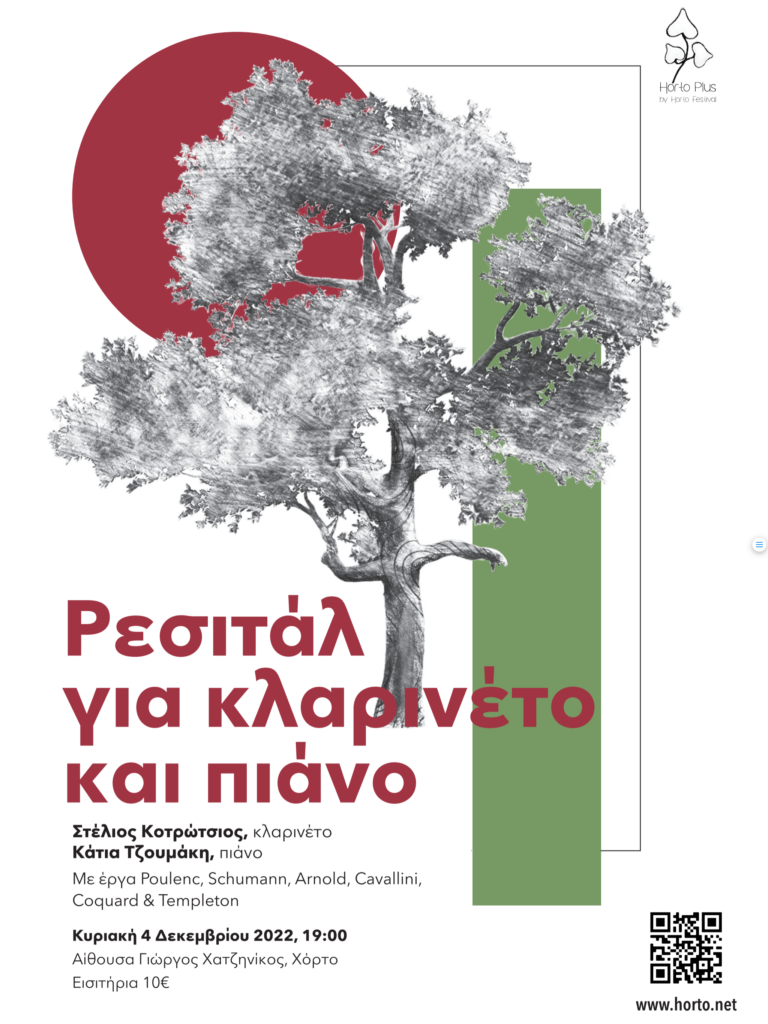 Biographical Notes
Stelios Kotrotsios was born in Larissa. He took his first clarinet lessons at the city's Conservatory and in 1995 he graduated with a diploma from the class of Cosmas Papadopoulos at the Contemporary Music School in Larissa.
He also studied with great clarinetists such as S.Mouriki, A.O.Popa, P.Radev, M.Lethiec, G.Volobuyev etc. and with the great teacher George Hadjinikos. He also graduated with a saxophone diploma from the class of Thanos Fyseki at the Larissa Conservatory and actively participated in master classes with J.M.Londeix and Th.Kerkezos. His artistic activity includes many chamber music concerts mainly in Greece and abroad.
He is a member of the ensembles "Enodeia", "The sound as it is" and the philharmonic orchestra of Larissa. For many years he was a member of the symphony orchestra of Larissa and taught clarinet and chamber music in various conservatories and music schools.
Since 1997 he has been a teacher of the clarinet class of the Municipal Conservatory of Larissa. He also teaches at the Trikala Conservatory A.Casiolas and at the Volos Municipal Conservatory.
Katia Tzioumaki was born in Volos. She started her studies at the Greek Conservatory in Athens, then at the Volos Municipal Conservatory, where she graduated with a Diploma with the grade "excellent unanimously and first prize".
She continued her studies in Paris. She holds a doctorate in music from the University of Sorbonne (Université Paris IV), a master's degree in music teaching and pedagogy (Paris IV) and a degree in musicology from the University of Paris VIII. He is also a graduate of the Ecole Normale de Musique in piano and chamber music.
She has attended many seminars in various fields of music (piano, theory, musical theatre, classical singing, etc.) with emphasis on orchestral conducting, in Greece, Paris and Vienna. He was conductor of the Val-de-Marne Symphony Orchestra in Paris in 2003-2004. He also holds a diploma in advanced theory and classical singing from the D.O.B. He has given many concerts and recitals in Greece and abroad (Paris and Prague).
She has taught at the Volos Music High School at the Municipal Conservatory of Nea Ionia and since 2010 at the Volos Municipal Conservatory as a piano teacher and session pianist (instrumental class, classical singing and choirs).