George Hadjinikos (3/5/1923 – 29/11/2015)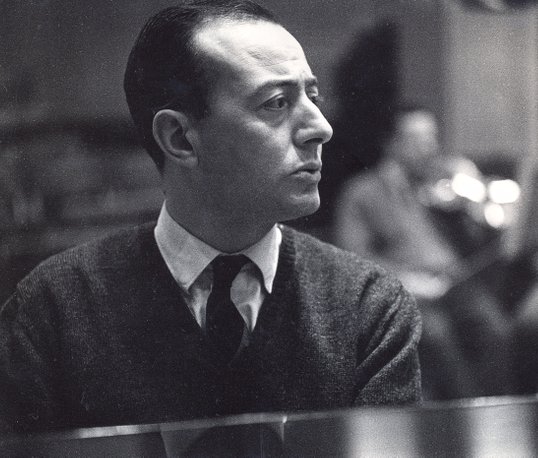 George Hadjinikos was a distinguished Greek piano soloist, orchestral and choral conductor, music pedagogue and author (described by many as a "Philosopher of Music") with an international career spanning more than 70 years. He had been accorded special recognition by leading musical authorities such as Dimitri Mitropoulos, Edwin Fischer, Carl Orff, Jean Françaix, Heinrich Neuhaus, Sir John Barbirolli, Hans Heinz Stuckenschmidt, and many others.
Among his teachers and authorities that influenced him were Edwin Fischer, Johann Nepomuk David, Carl Orff, Alice Pashkus, Eduard Erdmann, George Chavchavadze, and in a quite exceptional way Heinrich Neuhaus. Since 1961 he was a UK resident and following that a British citizen. From 1990 until his death, he shared his time between England and Greece.
He started taking music lessons (something unusual at that time for a boy) in Volos, Greece, which he continued at the Athens Conservatoire, in Athens (where the family had moved to in 1934), graduating in 1943 with a piano diploma and a degree in harmony and counterpoint.
Having entered in September 1940 as 5th among 2,500 candidates at the Law School of the Athens University, he was looking forward to the first lectures on November 5th which however never took place as the University had to close on the 28th of October due to Mussolini's infamous declaration of war. Instead, however, of their expected triumphal entrance to Greece the Italian troops were repulsed back to Albania so that on April 6th, 1941 the Germans attacked Greece from the Bulgarian front, but even then they needed more than a month to complete the occupation of Greece's mainland and islands. It was during this climate of black market and general lawlessness that he started to become aware of different kinds of supreme eternal laws in the world of music, and so he finally felt compelled to devote himself to music.
After the war, he continued his studies at the Mozarteum in Salzburg from where he graduated with diplomas in conducting and piano, in 1948 and 1949 respectively, while being awarded the Lily Lehmann Medal of the Mozarteum International Foundation. He met there, among others, Johann Nepomuk David who opened for him wider choral horizons in Bach and Palestrina. In 1950 he attended a composition seminar given by Paul Hindemith. He also had the opportunity to play to him his Third Piano Sonata with the composer commenting, "I have heard it many times by American and German pianists, but for the first time I now heard the structure of the Fugue." Hadjinikos had shortly before given the 2nd European performance of the 2nd version of Hindemith's magnificent cycle "Das Marienleben". Its exceptional success prompted some people to comment that this was due to "an artificial beautification with Ravel-like Mediterranean colors" without capturing the Hindemith-style. When he told this to the composer, the otherwise extremely severe Hindemith smiling gently said in moving modesty, "If we suppose that there is such a thing as a Hindemith-style, then this is exactly what I just heard."
He began giving public recitals and performing with orchestras Liszt's and Brahms's both Concertos, Schumann's, Khachaturian's, Beethoven's 4th and 5th, Rachmaninoff's 2nd and his Rhapsody on a theme by Paganini, among others. Exceptionally, as he was neither German nor American, he was invited to give numerous recitals all over Western Germany for the American Information Center presenting among others the European premiere of the Piano Sonatas by Aaron Copland and Samuel Barber in such a way that he literally raised the cultural prestige of the United States in Germany.
In 1951 he moved to Munich where he forged a very special and fertile relationship with Carl Orff which lasted until the end of the composer's life. He also came there for the first time across a work of Nikos Skalkottas recognizing at once in full depth his tremendous importance both nationally and internationally. So, he presented him internationally in October 1953 in Hamburg, where he had meanwhile moved, by giving the world premiere of his Piano Concerto No. 2 with the NWDR (today NDR) Symphony Orchestra under the baton of Hermann Scherchen. In order to learn this, he even had to copy his piano part with a magnifying glass from an extremely illegible manuscript of the score. This performance caused an uproar not only all over Germany, but even in England where Hans Keller broadcasted it through the BBC accompanying it with his historical article in The Listener entitled 'Nikos Skalkottas: An Original Genius'. The following year while giving a recital in Berlin, he discovered in a second-hand antique shop the lost manuscripts of his Octet, two String Quartets and the Piano Concerto No. 1.
In Hamburg, where he lived until 1957, he profited by participating in Eduard Erdmann's master-classes at the Hochschule für Musik, whilst honoring in 1955 the 10th anniversary of Béla Bartók's death by playing his Piano Concerto No. 2 with the NWDR Symphony Orchestra under Hans Schmidt-Isserstedt, as well as in Salzburg, Prague, Flensburg and Münster, attracting the characterization as being the 'ideal interpreter' of the great Hungarian composer. He played Skalkottas's Piano Concerto No. 2 also in Stockholm (with Ernest Bour), Vienna, Athens, Copenhagen (all with Miltiadis Caridis) and Zurich (with Erich Schmid), Khachaturian's Piano Concerto in Bremen and Hamburg (both with Hans Schmidt-Isserstedt), gave the Swedish premiere of Schoenberg's Piano Concerto, as well as various piano recitals.
In 1957 he moved to France where he stayed until 1960. There, he met and studied with Prince and Princess Chavchavadze at Châtel-Censoir being respectively initiated to Russian and French music.
In 1959, while on a tour in the Soviet Union, when he reached Moscow he received an invitation by the mythical Heinrich Neuhaus whom he met and was given by him the first 'seeds' of teaching. During the same year, Hadjinikos moved to Paris. Circumstances led him to Switzerland, where he settled for less than a year.
In 1961, after a tour in South Africa, he accepted to join the piano faculty of the Royal Manchester College of Music (today Royal Northern College of Music), thus, moving to Manchester. Besides his piano classes at the College, he branched out into conducting, history of music, chamber music, harmonization of theory and act, relation between art and science a.o., realizing that the problems of musical education are infinitely deeper than he first believed. This led to him staying at the College for 27 years instead of 3 as he had planned, retiring in 1988. During these years, he had been discovering answers which concern music as a whole and, thus, established a personal foundational approach to music, which he named Logic and Foundations (later, Essence and Origins) of Musical Interpretation, and presented it in various articles and essays, while also applied it to all of his musical activities.
In parallel, he multiplied his appearances as a soloist and conductor. With the College's choir he premiered the, unknown at that time in England, Carmina Burana by Orff and established the "New Manchester Ensemble" with which he premiered in North England Schoenberg's Pierrot Lunaire and Ode to Napoleon (conducting both from the piano). First performances of Schoenberg's Serenade, Wind Quintet and complete Piano Pieces, Webern's 5 Pieces for orchestra and Concerto, Stravinsky's Octet, Les Noces and Histoire du Soldat, Skalkottas's Andante sostenuto, Octet and Classic Symphony followed, as well as works by Gerhard, Takemitsu, Ligeti, Christou, Xenakis a.o. In cooperation with the UMIST (University of Manchester Institute of Science and Technology) he established the North Campus Choir with which he presented Brahms's A German Requiem, Bach's Mass, Stravinsky's Mass and Elizabethan madrigals. He founded special classes in 'initiating' in the deeper meaning of music (not only for musicians).
Always appearing in recitals and concerts, he performed Bartók's Piano Concerto No. 1 in Germany and his Piano Concerto No. 3 in England and Greece, Schoenberg's Piano Concerto in Paris with the Orchestre National de France under Dimitris Chorafas and in Geneva with the Orchestre de la Suisse Romande under Samuel Baud-Bovy, Ravel's Concerto in G major with the Hallé Orchestra under Jussi Jalas and the Concerto for left hand with the same orchestra (conducting from the piano), Skalkottas's Piano Concerto No. 2 in Zürich, London with the BBC Symphony Orchestra under Antal Doráti, and in Berlin with the Berlin Philharmonic Orchestra under Ernest Bour.
In 1968 he gave his first recital and lecture in New Delhi in India and had the opportunity at their Music Academy to experience ancient and unprecedented dimensions of musical perception, which he worked out during his next two visits to India and built into his following musical activities. In 1969 he conducted the world premiere of Skalkottas's Piano Concerto No. 3 (also prepared and edited the orchestral parts), played the world premiere of the 5 works for winds and piano, and gave the London premiere of the Sonata Concertante for bassoon and piano. The next year he attended the Bach Conference in New York and visited Tanglewood and the Vermont Festival where he met great musicians, such as Rosalyn Tureck and Rudolf Serkin. After conducting for a few years the Orchestras of Hoylake and South Manchester, he took over the Bury Symphony Orchestra, with which he presented 40 different programs of the main symphonic repertoire, Mozart's 5 greatest operas and Beethoven's Fidelio. For years he conducted the Cleveland Easter Orchestral Courses and the Canford Choral Weekends.
In 1978 he gave the world premiere of Skalkottas's Piano Concerto No. 1 under Michel Tabachnik in Athens, Greece and the next year he conducted Skalkottas's Overture Ulysses's Return in Copenhagen at the E.B.U. (European Broadcasting Union) and the world premiere of the Concerto for Double Bass. In 1984, he was invited at the instigation of Prof. Josef Rufer, formerly Schoenberg's assistant in Berlin, to present Skalkottas in a special recital at the University of Southern California in Los Angeles (at that time the location of the Arnold Schoenberg Institute). During the same year, he took over the Horto Annual Summer Seminars and Festival organized by the Angelinis Hadjinikou Foundation in the beautiful seaside village of Horto in Greece. During the Festival, European youth orchestras were invited and together with Greek participants presented works by Beethoven, Brahms, Sibelius, Orff, Christou, Ives, Tchaikovsky, Bartók, Shostakovich and many others, including Greek premieres.
In 1990, the University of Pavia awarded him the Ugo Foscolo Medal for his offerings in European Music. During the years 1993 and 1995 he conducted 7 classical programs with the Berlin Symphony Orchestra (now Konzerthausorchester Berlin). During his multifarious career he never stopped visiting Greece, collaborating (either as a pianist or conductor) with Greek and foreign orchestras. He had appeared at the Athens Festival both as a soloist and a conductor, having performed Skalkottas's Piano Concerto No. 2 under Miltiadis Caridis, as well as having conducted works by Jani Christou with the Radio Symphony Orchestra of Milan (RAI) and by Skalkottas with the Košice State Philharmonic Orchestra.
He never stopped his manifold musical activities, as well as travelling and teaching extensively, always aiming to awaken each student's subconscious. He taught every summer at the Summer Festival in Horto, Greece. He has often been invited to give seminars abroad under the title 'Essence and Origins of Musical Interpretation', which allow any instrumentalist, singer, ensemble, orchestra and even the audience to participate, as they aim in discovering music itself rather than simply giving advice concerning technique. He was the president of the jury at the Ibiza International Piano Competition until his death.
Among his most prominent pupils (in alphabetical order by last name) are Nikos Adraskelas, Gilbert Biberian, Teodor Currentzis, Paul Galbraith, Smaro Gregoriadou, Robyn Koh, Christos Marinos, Yiorgo Moutsiaras, Trefor Smith and Richard Ward-Roden.
He is the author of two published books: one about Nikos Skalkottas accompanied by two CDs, and one about Mozart's operatic recitatives. Essence and Origins of Musical Interpretation was the last book he was working on.

Recordings
Skalkottas, Nikos: Concerto No. 2 for Piano and Orchestra; George Hadjinikos (piano), Hamburg Radio Symphony Orchestra, cond. Hermann Scherchen (1953). Arkadia CDGI 768.1 (CD 1993).
See and listen to recordings here
Editions
N. Skalkottas: Concertino for 2 Pianos and Orchestra, Universal Edition, Dec. 1968.
N. Skalkottas: 10 Piano Pieces from 32 Piano Pieces, Universal Edition.
Books
Hadjinikos, George: "W. A. Mozart – A European Musician", Cultural Foundation "G. Angelinis Pia Hadjinikos", 1991, in Greek.
Hadjinikos, George: "Nikos Skalkottas – A renewed approach to musical thought and interpretation", Nefeli Publishing, 2006, in Greek (two gratis CDs included).
Hadjinikos, George: "The Recitativo in Mozart's Operas", Nefeli Publishing, 2007, in Greek.
Articles
Hadjinikos, George: "Nikos Skalkottas, Hellas and Dodecaphony" [Ellas kai Dodekaphonia], contribution to "A Little Dedication to Nikos Skalkottas" [Mikro Aphieroma ston Niko Skalkotta], in Bulletin of Critical Discography [Deltio Kritikis Discographias], 10/13, Athens, 1974, p. 212.
References
Keller, Hans: Nikos Skalkottas: An Original Genius, in The Listener, No. 52/134, 9 December 1954, p. 1041.
"Απεβίωσε ο Γιώργος Χατζηνίκος". Taxydromos. 2015-11-30. Retrieved 2015-12-13.
Kennedy, Michael, The History of the Royal Manchester College of Music. Manchester University Press (ISBN 0 7190 0435 7), p. 154 (1971).
External Links
Graham Wade, "A conversation with George Hadjinikos", March 1991
More about George Hadjinikos …
Article on Essence & Origins of Musical Interpretation
As Seen By Others
Selection Youtube Videos