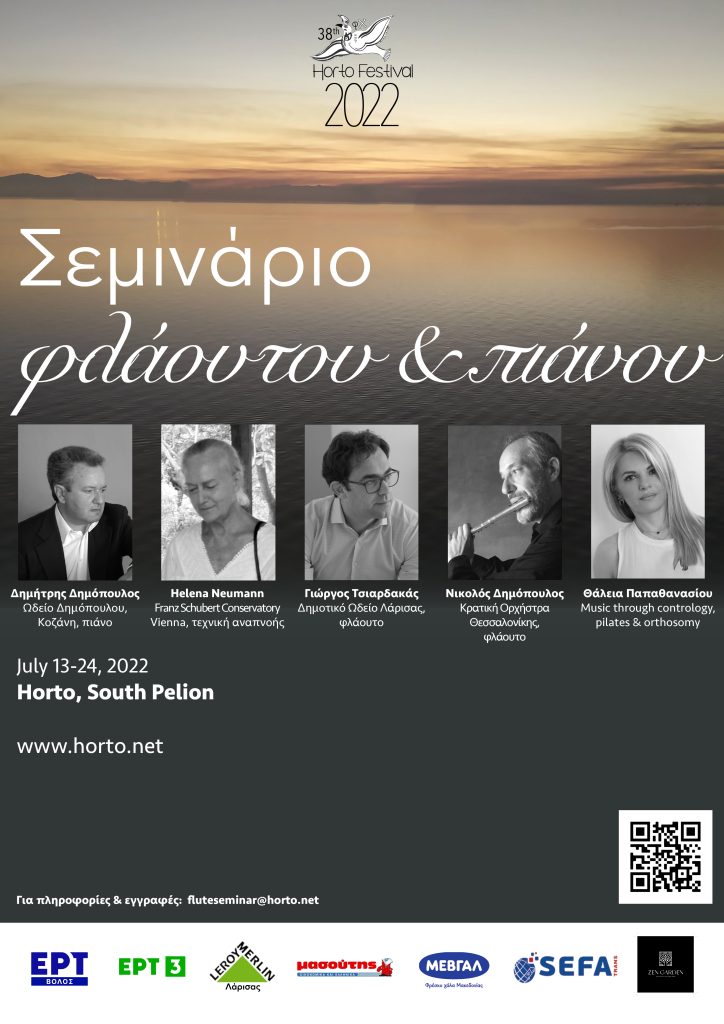 The flute and piano seminar is dedicated to support young musicians, to gain positive experiences throughout and for their career.
In a picturesque environment, mental and physical balance are achieved via "Music Through Contrology" – a new addition to the daily morning sessions – while at the same time the participants work on a wide repertoire of their musical instruments, in individual and group lessons, to develop their artistic inspiration.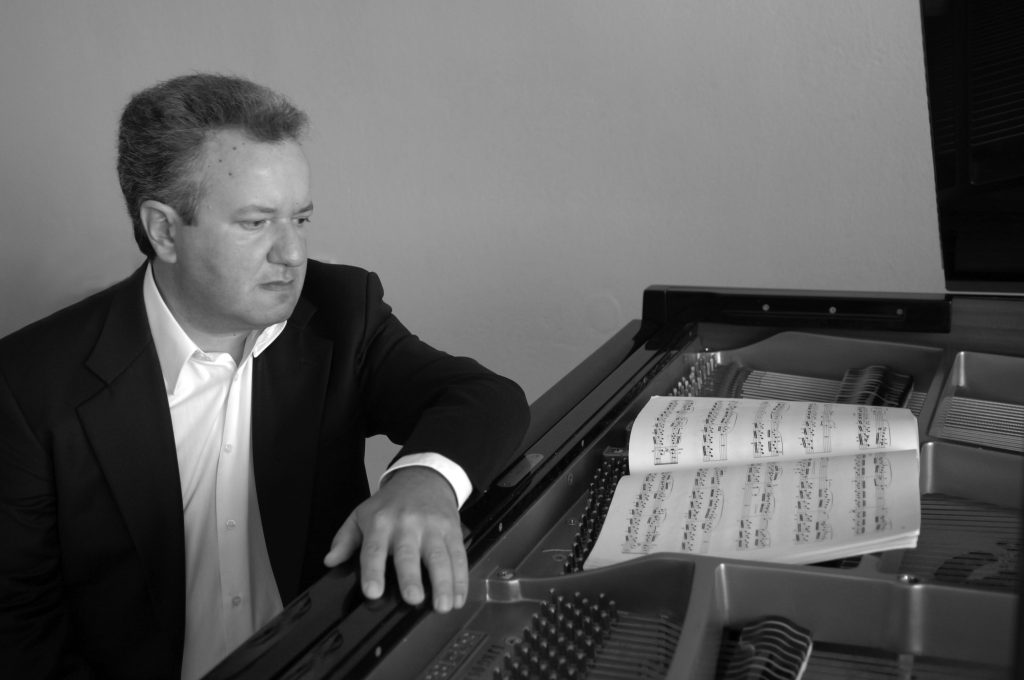 Dimitris Dimopoulos studied piano with Toni Sakellarios and theory of music with Giannis Tsanakas at the Municipal Conservatory of Larissa, from where he graduated with honors. He continued his studies in London and later he studied in Budapest with a scholarship from the Municipal Conservatory of Larissa. He has studied the repertoire of the piano, the flute, the violin and the cello He is known for his recitals, chamber music concerts and for participating in concerts with orchestras. He repertoire varies, covering more than three centuries of piano art, starting with G. Frescobaldi and reaching T. Murail. He has performed original versions while many works have been written for him. He has recorded for the Greek, German and Spanish Radio and Television. He taught piano at Municipal Conservatory of Larissa, at the State Conservatory of Thessaloniki and in many summer academies in Greece and abroad. From 1999 – 2021 he was the conductor of the orchestra of the Aristotle University of Thessaloniki.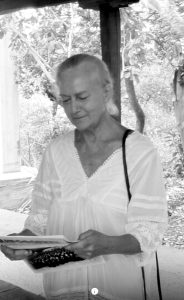 Helena Neumann studies at the conservatories of Brno (CZ) and Prague (CZ), Matura 1968.
Studies at the music academies of Vienna and Graz (A) with Hans Reznicek, Wolfgang Schulz und Herbert Weissberg.
Diploma in Music Pedagogy for flute 1981.
Concert diploma in flute performance 1988.
Magister thesis "Music and Architecture."
Master classes with Andras Adorjan and Aurel Nikolet.
Additional studies at the Institute for Breath-Voice-Movement (Institutfü rAtem-Stimme- Bewegung) with Prof. Lange-Rühl and Dr. Bernhard Riebel.
Further education in Mental Training with Prof. T. Orloff-Tschekorsky and R.Berger in Vienna.
Solo and chamber concerts in Vienna and abroad (Czech Republic, Switzerland, Montenegro, and Greece).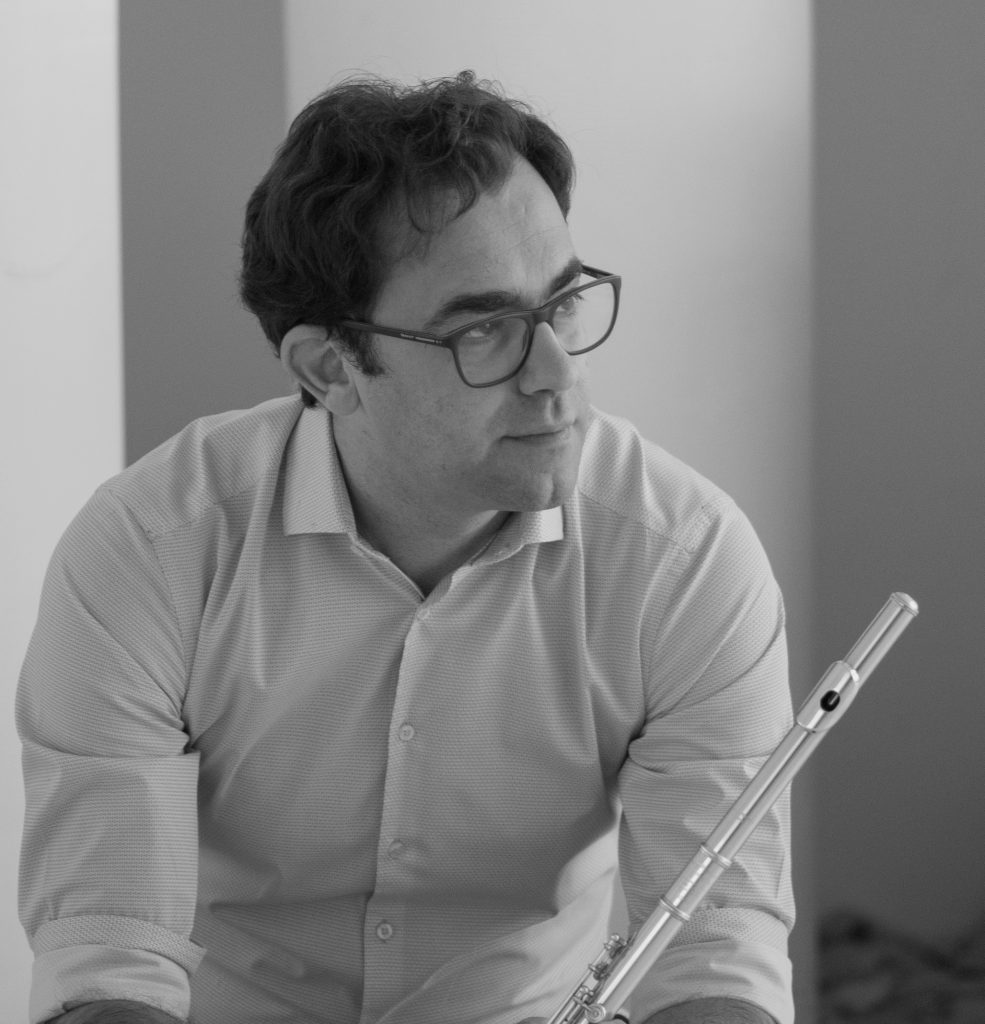 George Tsiardakas was born in Larissa. He began his musical studies at the Municipal Conservatory of the city, in the class of Mr. Ilie Macovei. In 1998 he was admitted to the State Conservatory of Thessaloniki, where under the guidance of Nikolos Dimopoulos, he obtained his diploma.
He performs solo recitals, recordings and participates in a variety of chamber music ensembles and orchestras. His intense artistic activity has earned him several awards. He received a scholarship from the State Scholarship Foundation for studies abroad and was awarded the honorary position of beiy a member of the European Union Youth Orchestra and the Mediterranean Youth Orchestra.
In 2013 he graduated from the Maastricht Academy of Music, with Philippe Benoit as his professor.
He has attended numerous seminars including Wissam Bustany, Lorant Kovacs and Samuel Coles.
In recent years he has been studying with Mrs. Neumann Helena (Franz Schubert Konservatorium, Vienna). He teaches flute at the Municipal Conservatory of Larissa. His focus lies in highlighting the importance and the role of music education in personality development of young children.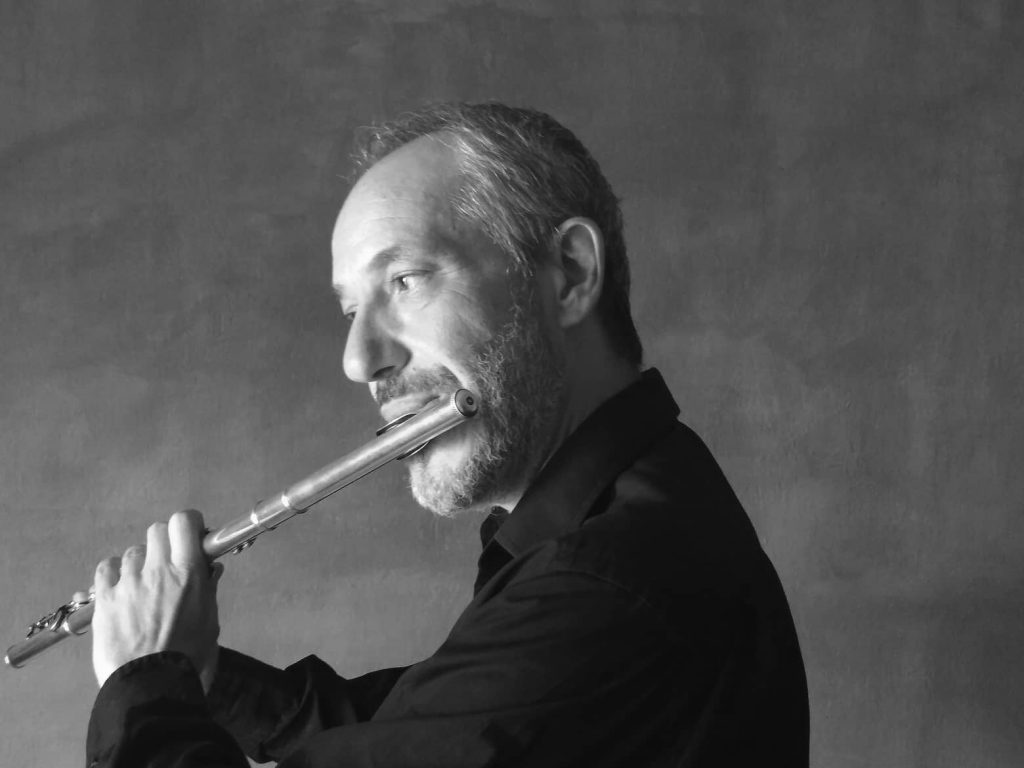 Nikolos Dimopoulos was born in 1967. He started playing the piano at the age of six and the flute at the age of twelve. Initially he played music with popular music bands. He studied flute at Thessaloniki State Conservatory with Toni Takahashi and received the his flute diploma in 1988 from the class of Ilie Makovei. He also participated the classes of William Bennett and Alexandre Magnin.
He has given many recitals in various cities and has appeared as a soloist with orchestras in Greece and abroad.
He is co-founder of the Seminar and Festival of Classical Music of kozani (1989-2017) and the Summer Flute Festival of Agios Nikolaos (2006-2009), in which he has collaborated with renowned musicians of the international scenes.
Being an enthusiastic supporter of new music he has performed numerous works in original versions. He has recorded a CD (irida) with works by Greek composers for solo flute and flute and piano which has been awarded by the Union of Greek Critics (2009).
Since 1996 he is a member of the Thessaloniki State Orchestra and teaches at the Thessaloniki State Conservatory.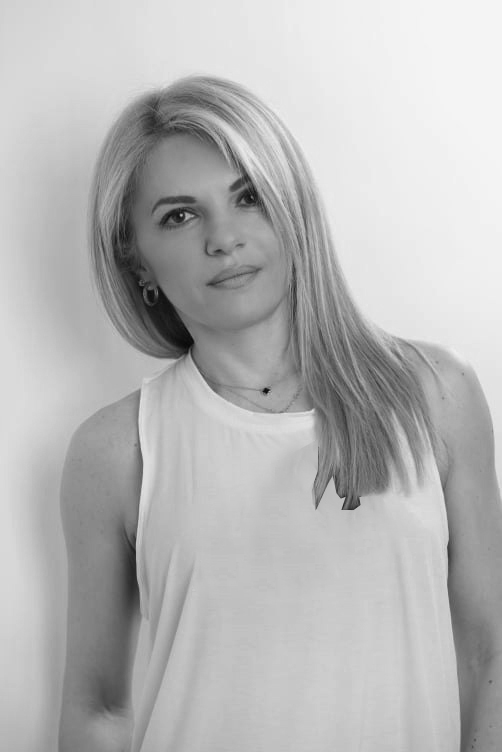 Thalia Papathanasiou is one of the most important Pilates Personal Trainers in the country. Born in the city of Karditsa, for the last twenty years she has been working in the field of fitness in the cities of Thessaloniki and Larissa, of which the last thirteen years have been exclusively through the Pilates method. As a certified Pilates trainer, both on an individual and group level, she has trained alongside world-renowned trainers, approaching fitness as a way of life in all areas. During the seminar she will summarize all aspects of her knowledge, aiming to better support the body and breath, enabling a better sounding effect for the participants.
Pilates largely avoids high impact, high power output and heavy muscular and skeletal load. For the wellbeing of musicians, whose body posture is forced into abnormal and/or asymmetrical positions, either in standing or in prolonged seating, it is an excellent choice of exercise and figure problem solving.
In addition, the starting point for learning musical instruments at an early age carries the risk of incorrect posture, as the body can develop and adapt to the musical instrument in a way that it may cause heavy injuries to the tendons, muscles and even lead many to functional scoliosis from a young age.
The flute, an instrument placed in front of the body, over-rounds the spine and forces the musician to bring the head forward or to the side. It is also common for both shoulders to be extended for a long time, which causes nerve entrapment and limited breathing.
Pilates, even through the simplest of exercises, it helps musicians find their orientation, balance the whole body, resulting to a better connection between the instrument and the breath, and also develop better quality and original sound.