Cello and Piano Chamber Music
Wednesday, August 24, 21:00
George Hadjinikos Hall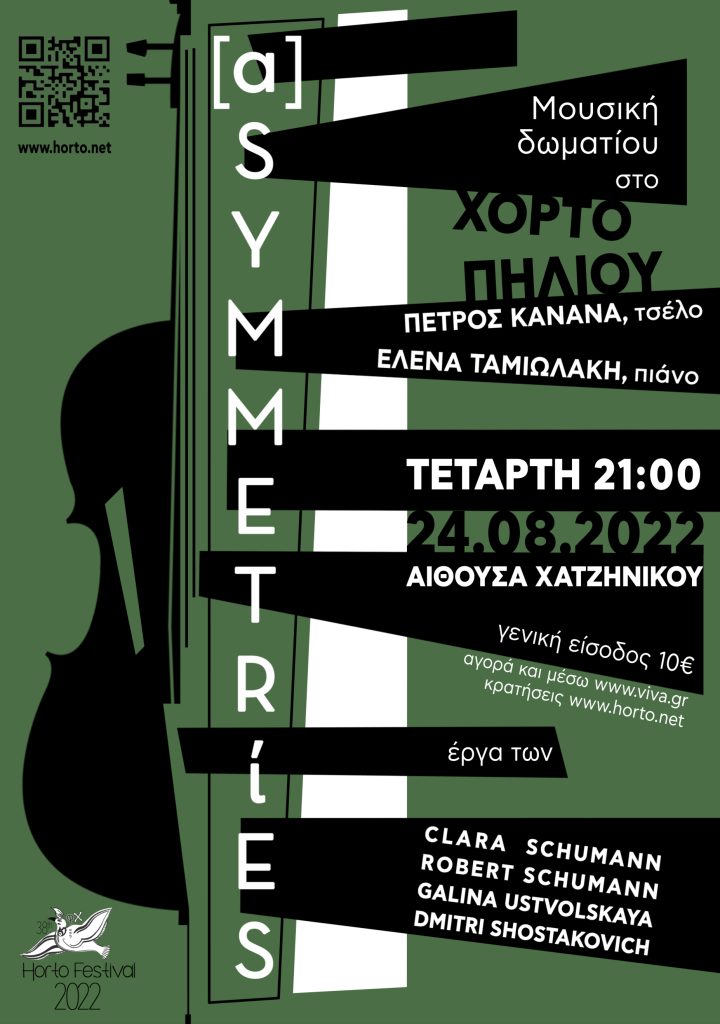 If we bring the [a]symmetries of eras and composers to the present day, we would say that it is our duty as musicians, not only not only to interpret the musically written but also the historically written. As long as we accept the importance of the already recognized composers and as much as we are touched by their work, we cannot overlook compositions and people who did not receive never taken their rightful place, either because of their socio-political beliefs or because of their gender role, as it played out in particular times and circumstances. Struggling for music and restoration of history, we try to heal, if not heal, certainly to bring out the edges of the past with honesty, restoring symmetry to the present.
It will be our great pleasure to share this music with you.
Elena Tamiolaki & Petros Kanana
Biographies

Petros Kanana's first encounter with a cello and the field of classical music happened in 2009. He graduated as a cellist from the Volos Municipal Conservatory in 2018, under the supervision of Professor Themistocles Vagenas.
During his years of practice and study, he has often participated in seminars with distinguished cellists and musicians. As an orchestra member and cello soloist, he has gained performance experience through his participation in various concerts in Greece and abroad.
Petros has been attending classes with Ulrich Voss in Berlin since moving there in autumn 2019.
Along with studying and exploring the world of music, he graduated from the Psychology department of Aristotle University of Thessaloniki in 2021. During his studies, he took a particular interest in the field of educational psychology and the context of the music lesson.
In terms of exploration and experimentation, Petros has lately been dealing with modern dance and dance improvisation. From October 2022, he will be studying at the University of the Arts in Berlin (Universität der Künste Berlin), where he has been accepted into the undergraduate program of Music Kinetics.
Elena Tamiolaki born in 1994 in Heraklion, Crete, Elena Tamiolaki started piano lessons at the age of six. Under the supervision of Patricia Arenas and Alexia-Mouza Arenas, she received the Piano Ptychion at the age of fifteen. She later received the Piano Diploma in Athens under the supervision of Dimitris Toufexis, as well as the Superieur Degree in Paris, under the supervision of Lilia Boyadjieva. She also holds a Ptychion in Harmony and Counterpoint.
She has actively attended piano seminars with Konstantinos Papadakis, George Kern, Alan Weiss, Michel Rossetti, Nelli Semitekolo, Borislava Taneva, Marina Pliassova, Yuri Bogdanov, Aquilles Delle Vigne, etc., and participated in chamber music masterclasses with Angelos Liakakis and Titos Gouvelis. She has appeared in recitals and music festivals in Greece and abroad (Fête de la Musique Paris/Austria, 3rd -"Trito"- Program of the Greek National Radio, Beton7, Athens Concert Hall etc.), and collaborated as a soloist with several orchestras (Camerata Innsbruck, Camerata Europaea, Athens Symphonietta).
Furthermore, Elena is a graduate of National Technical University of Athens, School of Architecture, and for the past year she has been living in Sweden, where she is currently attending a Master's Program in Sustainable Urban Design at the Architecture School of Lund University.