August 12 – 14, 2022
Indian classical music and yoga are deeply connected inside the Indian tradition. This event offers a unique opportunity to get in touch with those ancient arts through daily classes and an opening concert from The Samvad Trio.
Three teachers, Virginia, Igino and Yannis, who have dedicated more than 20 years to the study of Indian classical music will be guiding the participants, combining the western systematic pedagogy with the Indian oral teaching tradition.
Vocal, instrument and rhythm classes will be supported with morning Nada and Hatha yoga classes for stretching the body and relaxing the mind. Three days of music and yoga, open to everyone who wish to dive into the subtle world of vibrations, harmony and improvisation.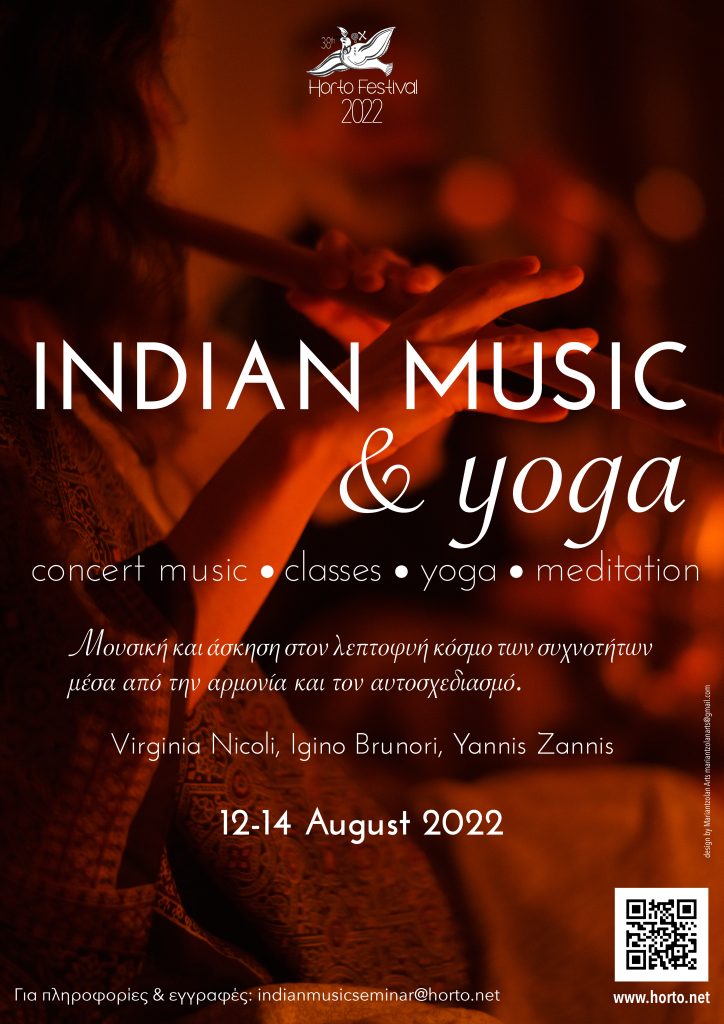 Virginia Nicoli & Igino Brunori
Virginia and Igino studied Dhrupad in India under the guidance of the masters Gundecha Brothers, world leaders of the Dhrupad style. They study bansuri flute with Pandit Rajendra Prasanna. They perform internationally in several classical and innovative musical projects and have been teaching Indian classical music worldwide for over 10 years. By combining their knowledge of the Indian system of oral tradition and western pedagogy, they have created a unique way of teaching, making this music more accessible and comprehensive.
www.samvadmusic.com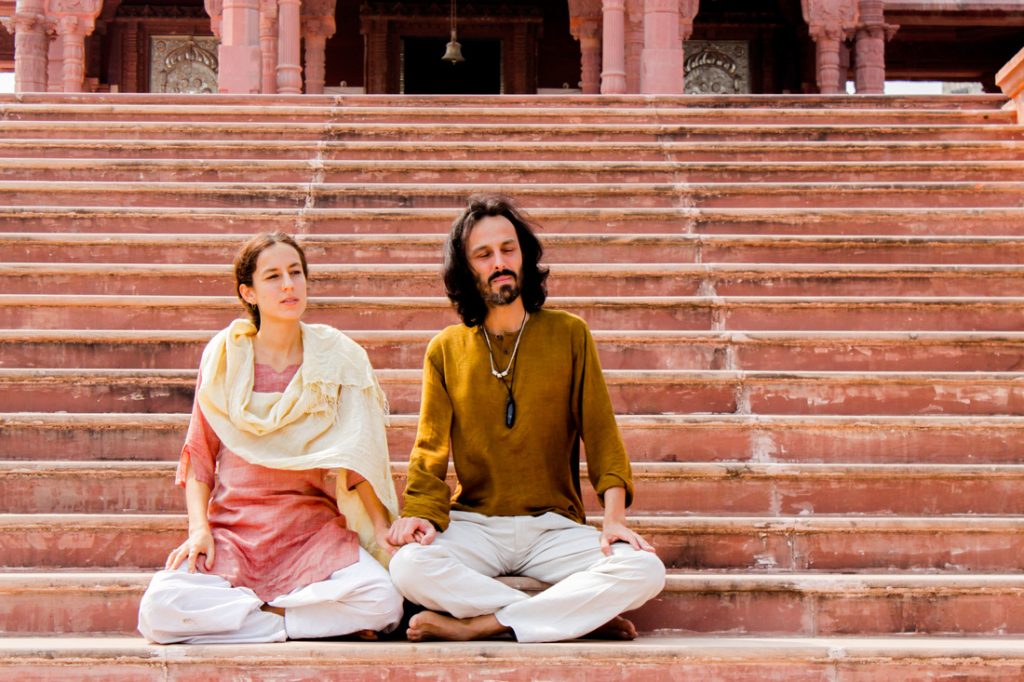 Yannis Zannis
Studied in India for more than 15 years, developing all the four different aspects of Tabla playing in Indian classical music tradition, which are Tabla solo, and accompaniment of vocal, instrument and kathak dance. Yannis teaches and performs around the world, as a soloist and accompanist in several collaborations of Indian and contemporary music. Together with the studies on Indian classical music, he has been trained for more than 20 years in Asthanga vinyasa yoga and Buddhist meditation.
www.piliosangeet.com.gr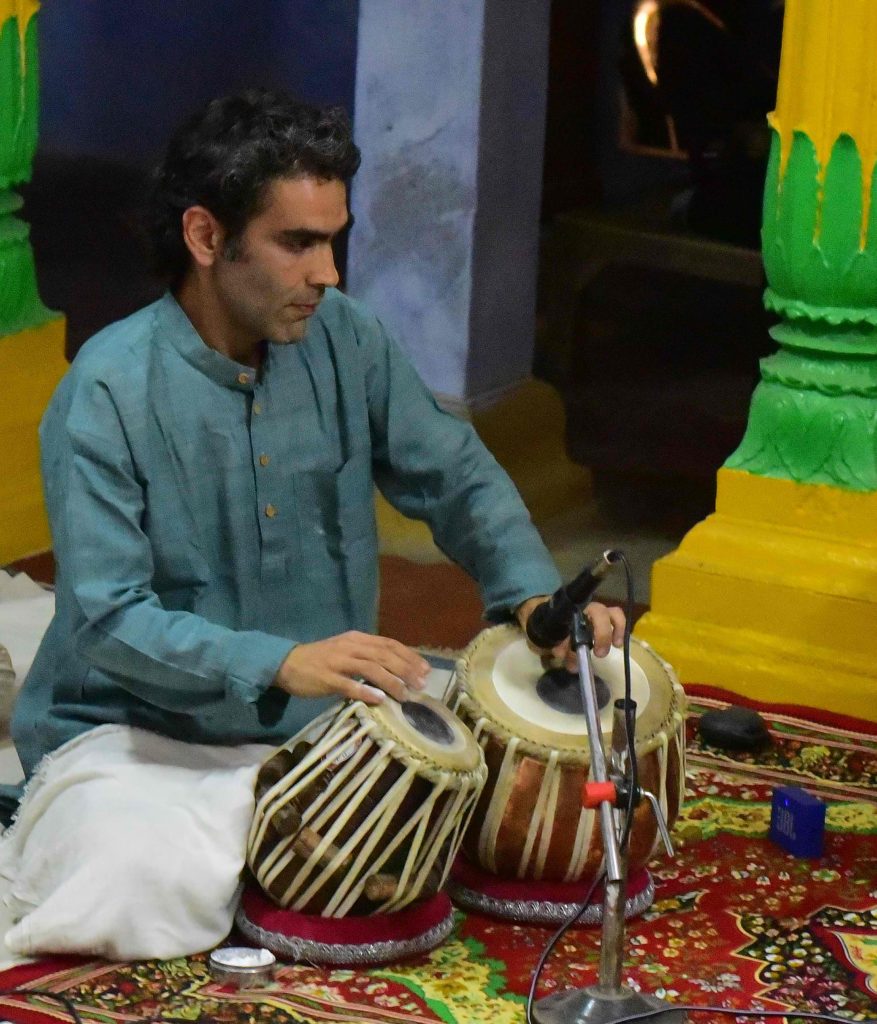 Classes – Participation
Participants can choose between the following classes, attending one or more of them, during the days of the event. Early registration is necessary in order to shape the schedule of the music classes and communicate it to the students.
A) Nada & Hatha yoga classes for all levels of students.
A form of Nada yoga, a meditative singing practice called, Karaj, will be open to all level of participants, followed by a class of Hatha yoga – Asana practice.
B) Vocal classes in Dhrupad style for all levels of students.
Dhrupad is an ancient classical music style of India, focusing on the micro- tuning of the notes and the production of sound through the voice. In the classes there will be an introduction on the basic aspects of Dhrupad, with vocal exercises and theoretical explanation.
C) Rhythm classes for instrumentalists.
Classes on rhythmic cycles and rhythmical improvisation based on Indian classical music tradition, for percussion and melodic instruments.
D) Introduction to Indian classical music for instrumentalists.
Participants need to have a basic knowledge on their instrument in order to follow the class.
The basic melodic aspect of Indian classical music, called Raga, will be introduced and explained, through practice and theory.
E) Tabla & Bansuri classes
Classes on the technique and the repertoire of Bansuri (Indian flute) and Tabla (Indian drums) for students who already know the basics of these instruments.
The Program
Friday 12 August
~ Opening Concert of Indian classical music
with SAMVAD TRIO.
Saturday 13 & Sunday 14 August
~ 8:00 – 10:00 Nada Yoga (singing meditation) & Hatha Yoga class
~ 12:30 – 14:00 Music classes*
~ 18:00 – 19:30 Music classes*
*The exact schedule of the music classes will be arranged in accordance with the participation.
Registration & fees
Participants should register for the classes they want to attend, according to the program and the days of their participation. The registration fees are:
~ Three-day pass – 60€ (includes concert ticket & participation in all classes)
~ Day pass – 40€ (participation in all the classes of one day)
~ Drop in – 20€ (participation in one class)
For more information and registration contact :
+30 6974841989 (Yannis Zannis)
indianmusicseminar@horto.net