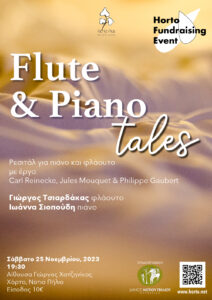 Giorgos Tsiardakas and Ioanna Siopoudi present stories through sounds and compositions for flute and piano.
C.Reinecke's "Undine" based on the novel by the German writer Friedrich de la Motte Fouquè, J.Mouquet's sonata "La flute de Pan" inspired by Greek Mythology, images from Weber's opera "Der Freischütz" and the work of Ph. Gaubert's "Fantasie for flute and Piano" will be the works that will be performed in the second Fundraising concert at the "George Hadjinikos" hall.
Saturday November 25, 19:30
George Hadjinikos Hall, Horto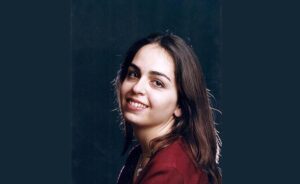 Ioanna Sioopoudi was born in Larissa in 1974. She studied piano at the D.O.L. with L.Rizou and T.Sakellariou and harmony with D.Dimopoulos and I.Tsanakas. During her school years she was a member and accompanist-pianist of the Women's Choir, as well as accompanist in the instrument and monody classes. She gave individual recitals and appeared in concerts as a member of chamber music ensembles and as a soloist with the Symphony Orchestra. Alongside her studies at the D.O.L., she attended seminars and studied intensively with important pedagogues such as G.Hatzinikos, D.Evnuhidou, R.Penkova, R.Economidou, D.Toufexis etc.
The search for further artistic education led her to the Mozarteum University in Salzburg Austria, to the Department of Instrumental-Gesangs Paedagogik (piano specialization) with G.Kern as professor. In 1995 she obtained a Teaching Diploma and after a multitude of musical activities, experiences and high level experiences, she graduated with Magister Artium in 1998.
Her subsequent return to her beloved Larissa and the D.O.L. was a natural continuation of her previous varied artistic activity, which was enriched by the difficult task of teaching the instrument.
Long-term and fruitful is also her collaboration with the D. Karvounis (Music Club, Children's and Mixed Choir of the D.O.L.) and his instrumental ensemble "Enodeia", in which she enjoys playing songs of favourite composers and poets, as well as music from the theatre and cinema.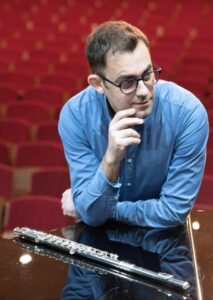 Born in Larissa, he begins his musical studies at the Municipal Conservatory of the city in the class of Mr. Ilie Makovei. In 1998 he entered the State Conservatory of Thessaloniki, where he obtained his diploma under the guidance of Nikolos Dimopoulos. Through an intense artistic activity as a member of various musical ensembles and personal concerts, he is awarded various prizes, receives a scholarship from the IKY for studies abroad and is awarded the honorary position of extraordinary member of the European Union Youth Orchestra and the Mediterranean Youth Orchestra, where he receives special distinctions among the Greek contestants. In 2013 he obtained a degree in flute from the Maastricht Academy of Music, under the supervision of Philippe Benoit.
In recent years, as a flute teacher at the Municipal Conservatory of Larissa, he has shown particular interest in teaching, aiming to highlight the importance and role of music education in the development of young children's personality.