Greek-German cooperation of youth orchestra and choir
September 3 – 10 2022
A new educational programme of Greek-German cooperation and exchange in the form of a Summer Academy for young people 14 – 27 years old who play a symphonic instrument and/or have choral experience, takes place this year at the Horto Festival. Co-organizers of the programme are the Angelini – Hadjinikou Foundation, the Department of Music Studies of the University of Macedonia and the German Music School Ratsgymnasium Minden. The programme is subsidized by the Hellenic-German Youth Foundation.
Apply here
Daily programme includes courses of:
Symphony orchestra under the direction of Professor George Vranos and the German conductor Stefanie Grünreich.
Choral workshop under the direction of Professor Maria-Emma Meligopoulou.
Chamber music under the direction of Evridiki Papagianopoulou, piano and Jörg Meder, cello.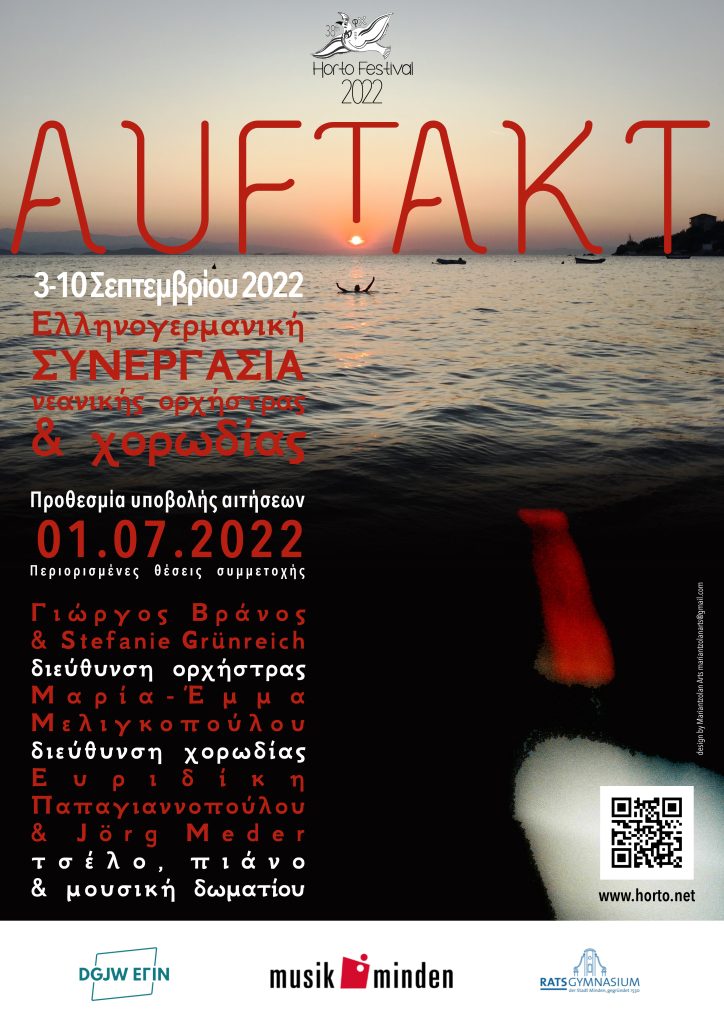 The programme will complete with two concerts, one on 9 September in Horto and one on 10 September in Thessaloniki.
The repertoire will include choral and orchestral works by German and Greek composers from different eras. In addition, participants will have the opportunity to play chamber music in small ensembles and to engage more intensively with polyphonic music.
The programme also offers daily extra-musical activities, where young musicians from both countries will develop friendships through organised group activities and get in touch with the language and culture of both countries. In addition to German and Greek, the language of the courses will be English.
General Info:
Dates: September 3 – 10 2022 
Place: Horto, South Pelion
Participation fee: 200€ (tuition – accommodation – meals)

Οι αιτήσεις θα αξιολογηθούν πριν την ένταξη των υποψηφίων στο πρόγραμμα.
Μέγιστος αριθμός συμμετεχόντων 25 άτομα.