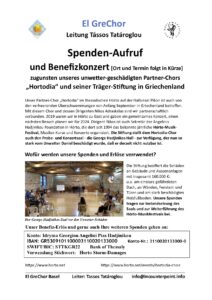 November 19, 2023, 20:00
H95 Raum für Kultur, Basel
From ElGreChor announcement:
We have been connected with our partner choir in Hórto on the Pilion peninsula and its conductor Nikos Adraskélas since a joint concert in 2019. We are planning another co-concert for 2024. Conductor Nikos is also the secretary of the Angelinis Hadjinikou Foundation, which has been organising the well-known Hórto Music Festival, music courses and concerts since 1994. The rehearsal and concert hall of the Foundation and the choir – the George Hadjincikos Hall – was badly damaged by the storm in September and is currently unusable.
What are our donations and proceeds used for? Our donations contribute to the repair of the hall and the continuation of the Hórto Music Festival.
https://www.musikwerkstatt.ch/angebot/kurs/detail/el-grechor
https://www.musikwerkstatt.ch/ueber-uns/lehrerinnen/tataroglou-tassos