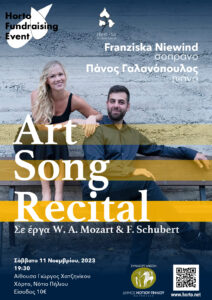 Mozart, in the last decade of his life, having an impeccable knowledge of the art of song, composed songs for voice and piano, setting the poems of his contemporary poets and writers to music. His masterpieces depict nature, love, humor and jealousy, all the themes that would preoccupy the romantic composers of the 19th century.
The father of German set poetry, the Lied, is Schubert. The great Austrian composer, having set more than 600 poems and texts to music, gave the art song the special place it has to this day among other forms of western classical music. Taking over from Mozart and Beethoven, he undoubtedly led Western music from classicism to romanticism, leaving behind groundbreaking works of incomparable beauty.
The German soprano Franziska Niewind and the Greek pianist Panos Galanopoulos are presenting a program with songs by the two well-known Austrian composers. During their musical journey, they could discover the genius and perfection of the compositions and poems. Bringing the music to an audience has the aim of pointing out the connection between the two eras and the musical currents of Central Europe.
Saturday, November 11, 2023
19:30, George Hadjinikos Hall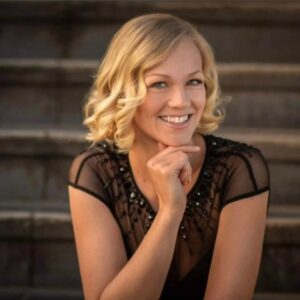 The German soprano Franziska Niewind has performed with several orchestras and choirs in locations such as Berlin, Osnabrück, Melle and Gütersloh. Among others, she has performed Joseph Haydn's "The Creation", Mozart's "Requiem" and Mendelssohn's "A Midsummer Night's Dream" as a soloist. She has appeared as a member of a choir in Germany, Austria, Greece and Italy.
Over the span of her career as a singer, she has cooperated with Orpheus Ensemble Berlin, Bachchor Gütersloh, Chorus Lunaris, Woman's Chamber Choir Osnabrück, Charité Choir Berlin and conductors Prof. Thomas Holland-Moritz, Sigmund Bothmann, Stefan Lutermann, Iru Mun and Stefan Meinecke.
With pianist and composer Roland Bittmann with whom she worked and focused on French and German repertoire.
She graduated from the Institute for Music in Osnabrück, where she studied opera singing, art song and oratorium. At the same time, she studied musical education and graduated as a vocal educator and children's vocal specialist.
Her teachers include Markus Krause, the laureate of the ARD International Music Competition, and opera singer Sandra Janke.
She has taken part in singing masterclasses and seminars with Prof. Heidrun Warczak, Prof. Andreas Mohr, Ernst Leopold Schmid and Prof. Gerda Hondros.
Currently, her main focus is on art song, and her repertoire extends from the baroque to the early 20th century.
Parallel to her singing career, she has a master's degree in education, and she has worked for about 5 years as a Waldorf teacher at the Rudolf Steiner School in Berlin.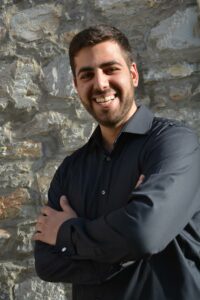 Pianist Panos Galanopoulos, first appeared in concerts as a collaborative pianist. Since 2012 he appeared in solo, chamber music and song recitals, opera productions in various Greek cities and Vienna. He took his piano diploma with honours next to piano professor Dino Mastroyiannis, and he continued his studies as a collaborative pianist in the Vienna State Opera, next to the American pianist Kristin Okerlund. In Vienna he also took lesson in art song with Ralf Heiber, gave concerts as a piano duo with the conductor Anastasios Strikos and worked in the Austrian Radio Symphony Orchestra (ÖRF). He has also attended Colla Voce workshop under the guidance of Christos Marinos and took part in conducting seminars.
Today he is studying solo piano repertoire with the great piano soloist Dora Bakopoulos and he is also studying piano next to Efi Papathomaidi. For the near future he is preparing song and chamber music recitals with various musician for Greece and abroad and solo recitals.
He is teaching piano and he coaches opera singers in Volos Municipal Conservatory under the annual "Interpretation of Lyric Song" workshop.
He has also studied History Archaeology and Social Anthropology in the university of Thessaly and from 2013 to 2019 he was a radio producer in the local station, and in the Third Programme of HBC.